Beauty & Self
Books & Music
Career
Computers
Education
Family
Food & Wine
Health & Fitness
Hobbies & Crafts
Home & Garden
Money
News & Politics
Relationships
Religion & Spirituality
Sports
Travel & Culture
TV & Movies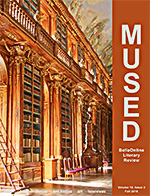 The autumn equinox, that balance point of light and dark, is closely tied to the moon. In China the Moon Festival happens around the autumn equinox, celebrating gratitude and the warmth of good friends and family. This year it was Sept 15th. Our last eclipse of 2016 was a penumbral lunar eclipse on Sept 16th. It fell in conjunction with the full harvest moon, also a symbol of thankfulness and appreciating those who care about you. The autumn equinox is a perfect time to add to those celebrations. It's a wonderful moment to treasure all we have and to share warmth with those who support us.

Autumn Equinox 2016 issue of Mused

Preparing Your Kitchen for Soaping
Soapmaking - Cindy Jones Lantier, Editor

How to prepare your kitchen for safe soap and/or cosmetic making




China Loves British Tea, How Ironic
Tea - Mary Caliendo, Editor

The influx of British tea consumption among the Chinese discussed.




Cleaning Bathroom Exhaust Fans
Cleaning - Tammy Judd, Editor

It is very important to clean and maintain your bathroom exhaust fans. These fans can help prevent mold and mildew from developing if used properly and if properly cleaned and maintained.




Harvest Mantel Pennants
Sewing - Cheryl Ellex, Editor

Draping the colors of autumn on a fireplace mantel evoke the seasonal abundance of harvest time. Sew triangular pennant shapes selecting fabrics in the brilliant golds, yellows, oranges, browns and reds that remind us of the changing colors of leaves and of the season's annual transition from the in




Do You Need a Website?
Small Office/Home Office - Carla Cano, Editor

Should you have a website for your small business? Do you really need one? The answer is yes. Here are some things you need to know about websites and where to get started.




Stamp Collecting Traditions
Stamps - Gary Eggleston, Editor

tamp collectors, enthusiasts, and philatelists take so much interest in stamps because of the interesting story told by each stamp, and even by each stamp issue. There are a huge variety of things that may be collected in relation to stamps, and each individual collector can make a choice over categ


| Google+ |
E D I T O R R E C O M M E N D E D
EatingWell Magazine


EatingWell is the award-winning magazine that focuses on healthier eating habits for the entire family. EatingWell magazine features articles on subjects such as how to prevent weight gain during the holidays, foods that boost metabolism, healthy budget dinners, and dangerous ingredients that you may not realize you´re eating.
Heart Strings - cozy mystery


She's certain she knows who the killer is, but will she be brave enough to confront the murderer for the scoop of a lifetime? This quirky cozy mystery is sure to keep you entertained and guessing to the last page.