Beauty & Self
Books & Music
Career
Computers
Education
Family
Food & Wine
Health & Fitness
Hobbies & Crafts
Home & Garden
Money
News & Politics
Relationships
Religion & Spirituality
Sports
Travel & Culture
TV & Movies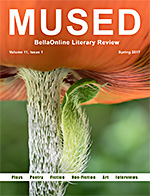 In our modern world of 24-hour diners and around-the-clock email, it sometimes seems as if we've lost track of nature's cycles. But then the Spring Equinox comes along and reminds us to pause. For thousands of years, cultures around the world have recognized this one special day as representing a balance of light and dark. It's a unique moment in time where our world settles in equilibrium – just for a breath. And then the sunlight shines out and pulls us deeper into Spring.

Enjoy the Mused Spring Equinox 2017 Issue



Recommended Rhubarb Varieties
Landscaping - Connie Krochmal, Editor

A number of very fine rhubarb varieties are available to home gardeners in America. The following are highly recommended.




Romaine Lettuce Wrap Sandwich Ideas
Sandwiches - Connie Mistler Davidson, Editor

Romaine lettuce is wonderful for little lettuce wraps. It tends to cup in the middle, a bit like a taco shell. Just add your chosen filling and pull the sides up. The lettuce is crisp, sweet, and delicious when you put a tasty filling in the middle. Try making some today!




Packing to visit the boys in the UK & US
Romantic Getaways - Marianne de Nazareth, Editor

Visiting my sons and ebjoying their little girls is the highlight of my life now




Wix Events App Registration Form
Digital Art and Design - Diane Cipollo, Editor

In this tutorial, we will continue working on the Wix Events app for our wedding website. We will set up the options for the online RSVP form and the Thank You email message.




New Technologies Make Stamp Resubmissions Welcome
Stamps - Gary Eggleston, Editor

Passing references have been made in some stamp collecting publications about resubmitting items for expertization that have come back with no, or negative opinions. One recent article highlights new technologies that invite collectors to resubmit items for certification.




Less Germs From Cashless Society?
Coin Collecting - Gary Eggleston, Editor

There are many ongoing pro and con discussions about a cashless society, in which all monetary transactions take place digitally. Some proponents would agree that a few of the arguments both for and or against make some sense. Then there are the marginal arguments some of which include the idea that


| Google+ |
E D I T O R R E C O M M E N D E D
Simple Delicious Italian Recipes


Simple Delicious Italian Recipes. Authentic Italian recipes easy to follow and simple to prepare, written by Cinzia Aversa, Italian Food Editor at BellaOnline.com. A perfect gift idea for any Italian food lover.
How to Write Sexy Descriptions and Sex Scenes


by Val Kovalin, your BellaOnline editor for the Romance Novels and Fiction Writing sites. This is for writers of erotic romance fiction (M/F and M/M). Part 1 gives writing advice. Part 2 shows how to write sexy descriptions about the human body from head to toe. Part 3 discusses male-male romance fiction, and Part 4 details the common elements of a sex scene.
Ordinary People as Monks and Mystics


This non-denominational book is appropriate for any religious path, and helps you to explore your spirituality whether you are more of a mystic or more of a monk. Both approaches are valid.